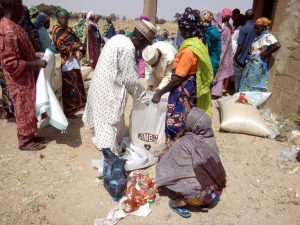 You are perhaps aware of the philosophy of our non-profit, humanitarian organization, which can be found on both our website (
nigeriafaithful.org
) and our Facebook page. We exist to advance sustainable solutions for addressing the practical needs of the people of Nigeria. The key word there is probably "sustainable," which is an overarching desire of us all to projects which require participation and equity on the part of Nigerians, and which will furnish long-term solutions to the problems found in our beloved country.
If you have followed us for a while, you will know that most of our efforts have been concentrated in a few areas of southwestern Nigeria, where many of us grew up and where our parents served. This, however, does not mean that we have no desire to help in other areas of the country. You have surely noted in the media in 2016 the difficult situation existing in northeastern Nigeria, due in large part to the activity of the terrorist group Boko Haram, and combined with a very unfavorable economic position and years of inability to plant crops. With our limited resources and contacts it would be quite difficult and dangerous to intervene in some areas, besides the fact that provision of emergency supplies is not usually a sustainable activity. However, we have recently come to understand that a similar situation of famine and extreme poverty prevails in much of the North, in places where we do have trustworthy contacts. In hearing from these folks during our recent council meeting we came to feel a clear call to do something with our limited resources to alleviate the suffering that is happening there. In discussing the need to limit ourselves to sustainable activities, we came to realize as well that in parts of Nigeria and the rest of West Africa, it is often necessary to sustain life before we can sustain activity. This is a quandary faced every year by pastors, missionaries, and benevolent workers in this part of the world; that is, balancing the desire to do productive and sustainable work against the necessity of simply keeping people alive.
We were made aware during our meetings of a group of pastors and lay leaders, known by and familiar to one of our council members,  operating in seven states of Northern Nigeria. A large number of the people with whom they work experience severe persecution including loss of homes, livelihoods, and even lives. They endeavor to provide these folks with temporary housing, food, and support until they can re-establish themselves in a different place. A sub-group that they are targeting includes over 3,000 widows and their families who often experience extreme suffering. The group tries to provide them with food and some training so that they may eventually provide for themselves. They are divided into groups of four or five who will either try to support themselves by cooking street food, by tailoring, raising poultry, or making items to sell. This works well in normal times but the current economic situation in Nigeria is quite difficult. The price of a sack of grain has gone up five-fold since early in 2016. Many who are employed have not been paid for months, and those who are still paid find their money does not go far. The group of which we speak is thus unable to raise the necessary funds to help people as they are accustomed to do, and consequently, the families and widows who look to them for support are suffering, experiencing illness and starvation on a large scale.
Our council thus felt that we should send money immediately to help alleviate this terrible situation. We have to date sent an initial transfer 0f $6000, but as you may realize, that worked out to just $2 per widow! Consequently we initiated what we are calling Project Nourish, and began a campaign to raise funds, with a goal of $20,000. The response to our Project was gratifying, with all council members contributing, and we were able to make a second transfer of $10,000 in mid-December. To date our goal has been surpassed, the team in Nigeria is working on a second wave of distribution, and will use some of the funds to provide opportunities for the widows to go into micro-business as mentioned above.