Meet John Edor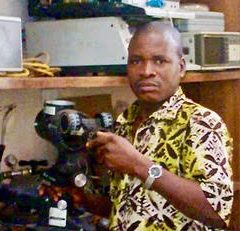 Since January 2018 John Aiyes Edor has served as NFW Project Coordinator in Nigeria. John worked for several years with the late biomedical engineer Rob Dickinson in a number of Nigerian hospitals, sponsored by NFW.
"The NFW is a dear organization to me," he said. "With great joy I accepted the call to work, to join in serving and making a difference in the lives of people, which is the aim and goal of the NFW. I am blessed and glad to be part of this great organization."
A widower and single father of three, he previously worked with Diamond Engineering Ltd as a supervisor on electrical projects, and also with Rome Construction Ltd as a project manager before he went for biomedical training in Ghana under the sponsorship of NFW. Currently he is also an independent contractor working in electrical and biomedical engineering at medical institutions near his home in Aba, Abia State.
"John is a delight to work with," said NFW Council member Baker Hill, a frequent project manager. "He's willing to go anywhere and do anything for NFW. He is responsible in the use of funds, which he understands come from multiple small donors, and takes to heart our philosophy and objectives. John helps NFW save money, time, and risk, and he gets the work done," he added.