Suction Machines Save Lives
     NFW has provided three suction machines to update the operating theatre at the Ogbomoso hospital.  Becky Albritton and Elaine Orr helped obtain the first one when they visited Ogbomoso in 2004.  It was immediately installed and for the next two weeks Dr. Don Meier and Patsy Meier (visiting volunteers and former missionaries) were able to use the equipment
     Phil Whirley organized the purchase of two additional machines, which were taken to Ogbomoso by David and Ellen Duvall Low (MKs) in 2007.
     Dr. John Tarpley, former missionary and frequent volunteer surgeon at Baptist Medical Centre-Ogbomoso (BMCO) was on-hand to receive the machines.  Tarpley states, "The suction machine is one of the most valuable pieces of equipment in the operating theater. There is equipment and there is equipment.  Let me just say that a suction machine can save a person's life.  And we are so grateful to NFW for making this happen." Surgeons currently on staff at BMCO who make use of these machines are Dr. Akin Ola Olorun and Dr. Timothy Awotunde.
Ultrasound Equipment
     At the request of the hospitals in Saki and Ogbomoso NFW sent three ultrasound machines—one portable and two free-standing.
(2005 and 2006).
Two Cargo Containers of Donated Medical Equipment and Supplies for Three Baptist Hospitals in Nigeria
     In the fall 2006 containers packed with medical equipment were shipped to the hospitals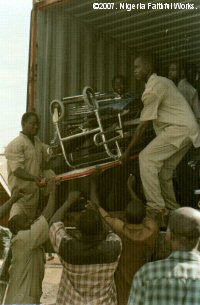 at Eku Ogbomoso, and Saki.
     The donations came through the outstanding efforts of Walking in Love Ministries, the Baptist General Convention of Texas , Healthcare Outreach Network, Texas Baptist Men, and Nigeria Faithful Works.
     Some of the large medical equipment donations came from Baylor Medical Center, Valley Baptist Hospital, Children's Medical Center of Dallas, the Christian Action Center in Lewisville, Heart to Heart of Kansas City, Lexington (SC) Medical Center, and Supplies Overseas of Louisville.
     A partial container list includes: dental suites, anesthesia machines, hospital beds, ultrasound, laparoscopic surgery sets, suture kits, and much,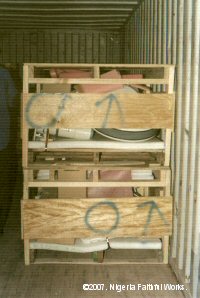 much more.
     NFW's Ron Wasson assisted with the packing and loading of supplies and equipment.  He said, "It still amazes me when I see all the hard work and effort of different organizations come together, all for the glory of God and all who are interested in helping the people of Nigeria.  It was such a blessing to take part in the loading of the medical supplies, knowing how much it will be needed in my childhood home.