Church Construction Aid
Umuahia, Abia State
Status: Ongoing
Project Managers: Rev. Segun Alabi and Baker Hill
As Project Coordinator John Edor was researching possible projects for NFW in eastern Nigeria, he was particularly struck by the spirit and initiative of the First Baptist Church in Umuahia and its young pastor.  Umuahia is between Enugu and Aba in Abia State.
Pastor Segun Alabi, a recent seminary graduate, had taken on the challenge of a church of about 100 members with the basic structure of a large building started many years earlier but not finished.  Construction had stopped once the walls were built, due to the lack of funds.
Rev. Alabi's vision is to complete the building to create room for his members and to add more people from the community. Currently they meet in a smaller building designed for Sunday school classrooms.
NFW was able to send a small amount of money in early 2022 as "seed money," and it was used to buy lumber for the roof superstructure.  This will be an encouraging step toward completing the church building as the members are determined to do.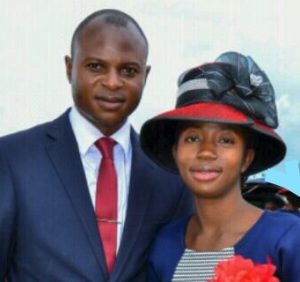 "The present help received from NFW is a motivator that stirs our vision.  With your support we have hope our vision will be realised."

—Rev. Segun Alabi, Pastor