Northern Nigeria Rural Health Project
Seven Northern States
Status: Currently Underway
Project Managers: Name Withheld for Security and Baker Hill
A pastor in Kaduna directs a rural health project operating in several of the northern states, using doctors and nurses who are members of his church. For some years they have intervened in a number of ways, including health clinics, clean water projects, and medicated mosquito nets. Transportation for their team has been a perennial problem, since they go to isolated rural areas with bad or no roads, and are limited to their personal sedans with low clearance and tw0-wheel drive. NFW was able to help them in 2023 to purchase a used four-wheel drive double-cab pickup, which can carry the team plus supplies over rough terrain and through places that would stop a normal car.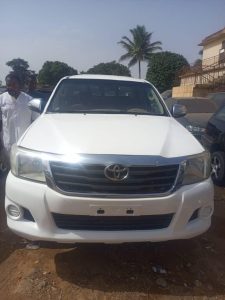 The team has wanted to drill boreholes with pumps in several selected villages that are plagued by being situated far from good drinking water, and where regular open wells are not feasible due to the depth of the water table.
In Kiriya, Adaho, Gulbedu and Hyalimoli there are newly-planted Baptist churches with brand new believers. In these villages people don't have good drinking water. The consequences are deadly diseases like cholera, typhoid fever, guinea worms, bilharzia and others due to having to drink contaminated water. The pastor and his team wanted to do something to help.
He contacted well drillers who agreed to drill each borehole for about $850 USD, and these funds have been provided by NFW. The drillers have done the geophysical surveys for the villages, and will begin drilling the next boreholes in early summer of 2023 before the heavy rains arrive in Nigeria.
In 2022 NFW sent additional funds to provide boreholes in four more villages with new churches that needed clean accessible water. Eight boreholes are drilled so far, and in 2023, several more can be done with the available funds although the price for a borehole has nearly doubled.