Dr. Oluwole Adebo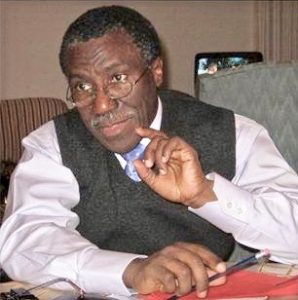 Dr. Oluwole  Adebo was of great service to NFW in helping our council members understand how to navigate the challenges of the multi-year Biomedical Engineering project at Bowen University Teaching Hospital in Ogbomoso at a time when hospital administrators were also dealing with the demands of earning accreditation for the hospital's new role. Dr. Adebo met with us in Atlanta in February 2012 at great discomfort to himself when he was in the US for treatment for terminal cancer. He shared his time generously with us, although he was wracked with pain. It was obvious that he cared passionately about advancing the hospital, the staff, and patient services. His insights to us were extremely valuable, and his dedication to BUTH was touching and inspiring. He passed away a few months later on September 22, 2012.
Gifted in both teaching and in surgery, Wole was respected and appreciated all over the world. He received his doctorate degree from the University of Ibadan, and completed his General Surgery residency at Strong Memorial Hospital in Rochester, New York. He completed his residency in Cardiothoracic Surgery in Providence, Rhode Island, and went on to serve as Director of Emergency Services at Highland Hospital in Rochester. Returning to work in Nigeria, he served as Professor of Cardiothoracic Surgery at the University of Ibadan until reaching retirement age.
It was then that he received a compelling offer to serve simultaneously as Provost of Bowen University's College of Medicine and Health Sciences in Iwo as well as Chief Medical Director of Bowen University Teaching Hospital in Ogbomoso. He felt he heard God's call, so instead of retiring he accepted.
In November 2011 Wole fell ill and began rigorous treatments in the US. During his treatments he made a number of excruciating trips to Nigeria, shuttling between both Bowen campuses, relentlessly pursuing accreditation at both locations. In July 2012 Bowen became Nigeria's only private university with a teaching hospital.
Over his career he received many honors, including membership in the World Heart Federation, the West African College of Surgeons, the Nigerian Cardiac Society, the Pan African Society of Cardiology, the American College of Chest Surgeons, and the International College of Surgeons, to name but a few.
A clip from his journal reads, "A spiritual rebirth in 1976 altered my life, goals, and perspectives. Working for God became the defining motivation for my endeavors. My motivation for diligence, integrity, and excellence was to please God who gave me purpose."
He was very dedicated to his wife Beatrice and three daughters, and was an active member of Orita Mefa Baptist Church in Ibadan. He was heavily involved in the Nigerian Fellowship of Evangelical Students where he mentored students and medical professionals. He founded the Macedonia Foundation to fund missions to rural areas. All who knew him found him to be loving, honest, and hard working with the highest ethical standards.