Maternal Health Program. (before edits March 2019)
Baptist Medical Centre, Ogbomoso
Project completed in 2008
Project Managers: Dr. Timothy Awotunde and the NFW Council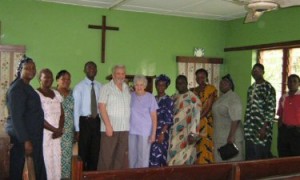 Hugh and Joan Philpott are South Africans who served as missionaries to Nigeria in the 1950s.  Dr. Philpott served at the hospital in Ogbomoso, in addition to other medical facilities.  Since retiring as a professor of Obstetrics and Gynecology, he has spent the past 15 years leading maternal health programs in rural South Africa.
In April 2008 the Philpotts returned to Obgomoso for three weeks.  NFW sponsored Hugh's airfare to and from Lagos, and the medical centre provided all ground transportation, lodging and meals.  Hugh taught seminars for midwives and doctors, introducing methods of perinatal audit he had developed in South Africa, and they established together new interventions that will help to advance the quality of care.  He and Dr. Awotunde visited other maternity units in Ogbomoso to develop closer links with Baptist Medical Centre-Ogbomoso (BMCO) and share protocols of management and patient referral.
Dr. Philpott recommended the biomedical equipment project that NFW helped implement later in 2008, and he continues to consult with the BMCO staff via internet to help them analyze their maternity patient data for findings that will enhance patient care.
Suction Machines, 2007
Baptist Medical Centre, Ogbomoso
Project completed in 2007
Project Manager: Phil Whirley
NFW provided two suction machines at the request of the hospital in Ogbomoso to update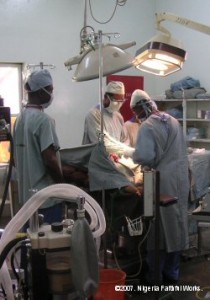 their operating theater.  Phil Whirley handled the purchase of the equipment, which was taken to Ogbomoso by David and Ellen DuVall Low in March 2007 in time for the hospital's 100th anniversary celebrations.
Dr. John Tarpley, a former missionary and frequent volunteer surgeon in Ogbomoso was on hand with BMCO surgeons Dr. Timothy Awotunde and Dr. Akin OlaOlorun when the machines arrived.  Tarpley said, "A suction machine is one of the most valuable pieces of equipment in the operating theater.  There is equipment and there is equipment.  A suction machine can save a person's life. We are so grateful to NFW for making this happen."
Ultrasound Machines
Baptist Medical Centre, Ogbomoso
Project completed in 2006
Project Managers: Gita Larson and Ron Wasson
At the request of the medical centre in Ogbomoso, NFW sent badly needed ultrasound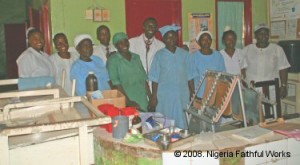 machines.  Gita Larson did the research and obtained a portable machine, which was taken to Obgomoso by Dr. Andy Norman in 2005.  Ron Wasson helped pack a second donated machine a year later in shipping containers where space was generously offered to NFW by another group sending equipment to Nigeria.  These ultrasound machines replaced equipment that had been in use since about 1970.  The units sent by NFW not only enhance the quality of care the hospital provides, but also boosts its capacity to generate sorely needed additional income.
Suction Machine, 2004
Baptist Medical Centre, Ogbomoso
Project completed in 2004
Project Managers: Elaine Orr and Becky Albritton
Elaine Orr and Becky Albritton visited Ogbomoso in 2004.  They carried with them a suction machine, which was badly needed by the hospital's medical staff.  It was immediately installed and put to use, and proved to be invaluable in the high volume of surgeries performed there.